Instituto Brasileiro de Capoeira-Educação
The NGO IBCE is a non-profit organization whose mission is to promote access to immaterial cultural assets for people historically deprived of this heritage, such as the LGBTQIA + population in vulnerability, children in popular occupations, the homeless and the public of slums of RJ.
Capoeira de Rua
Capoeira de Rua
The Capoeira de Rua Project provides capoeira classes for homeless people. IBCE volunteer teachers establish routines of emotional exchange, facilitating the connection between people who are socially invisible to the majority of the population. Through the project it was already possible to contribute to the reinsertion of people in the job market, to help some out of the streets with decent housing and to the individual empowerment of students who build together a space of affection exchange.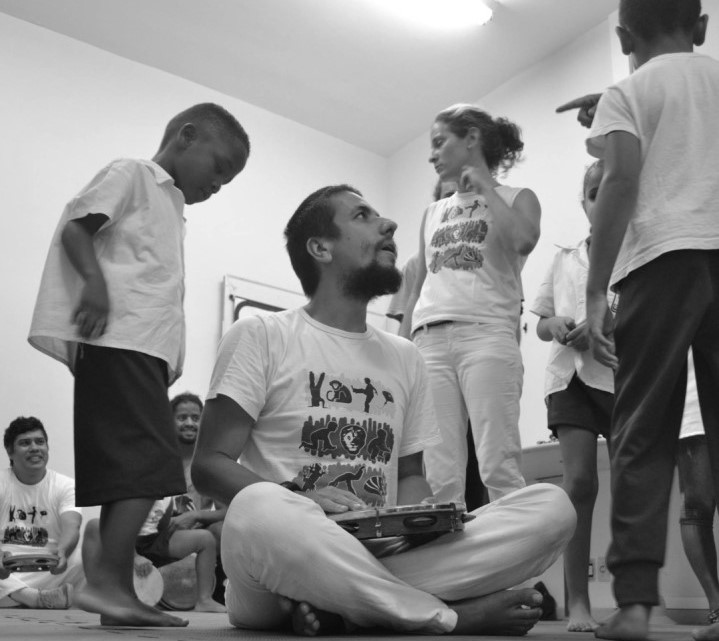 Capoeira para crianças com deficiência visual
Benjamin Constant Project
Work developed in partnership with Instituto Benjamin Constant (IBC), a federal school specialized in visually impaired children. The project contributes to the development of self-esteem and autonomy of these children, who often have multiple motor or intellectual disabilities associated with blindness.
Favela da Maré
Capoeira na Maré Project
Maré is a complex of slums and neighborhoods with more than 100,000 inhabitants in the North Zone of Rio de Janeiro. The work in Favela da Maré serves children, youth and adults with the perspective of inclusion and humanistic training through capoeira.
Capoeira Nem
Capoeira Nem Project
The Capoeira Nem Project gives classes to the LGBT+ community facing social vulnerability. Trans people, homosexuals and people with diverse sexual orientations of all ages take part in the classes.
Santa Clara Project
Santa Clara Project
Creche Santa Clara serves hundreds of children from economically disadvantaged communities in Rio de Janeiro. In partnership with the Brazilian Institute of Capoeira-Education, it regularly offers free classes of capoeira. The project aims to develop children's corporal, musical, social and cultural potentials, contributing to the education of autonomous, creative and critical-reflective individuals.
Capoeira Project at DEGASE
Capoeira Project at DEGASE
DEGASE is the Rio de Janeiro institution for youth deprived of freedom by the justice system. The Capoeira DEGASE project aims to offer an alternative of culture, art and leisure and contribute to the reintegration of young people into a community of healthy habits.
Capoeira in Occupations
Capoeira in Occupations
The Occupation Benjamin Filho receives dozens of children in social vulnerability in downtown Rio de Janeiro. The partnership with the IBCE promotes capoeira classes every week for children, expanding their access to culture and art.
Support the social projects
INSTITUTO BRASILEIRO DE CAPOEIRA-EDUCAÇÃO
CNPJ: 038.353.326/0001-75  —> CHAVE PIX
BANCO BRADESCO
Agência 446
Conta Corrente: 3941-1
Would you like to support?
INSTITUTO BRASILEIRO DE CAPOEIRA-EDUCAÇÃO
Copacabana - cep 22030-010
Rio de Janeiro, RJ - Brasil